I think we've all done it. I know I have. Driving down a road or highway, and suddenly, we see a fishy looking creek and as we're driving past it, think to ourselves, I need to fish that.
For those who haven't yet ventured into their local creeks, what are you waiting for? If you're reading this then you might be a kayak owner, which means you possess all you need to access these local gems, sometimes hidden, sometimes in plain sight, often just around the corner from our homes or places of work.
I'll be the first to concede that creeks don't have the romantic allure of rivers, nor do they offer the endless possibilities of a share-a-lunker lake, but I've come to learn that they bring their own surprises and plenty of buck bass to boot. That epiphany occurred when my son Dan, an active duty Marine at the time, came home on leave and fished the little creek running through our neighborhood greenbelt. It was only a half-mile from our house, and because I'd walked or run past it often enough, I knew it held dink bass and perch, but I didn't think the creek would ever amount to much of a fishing spot.
It didn't take long, though, before Dan found the creek's honey holes and he started bringing home cell phone pics of fat looking bass that had no business being in that skinny water creek, much less thriving like the fish in his photos. His trips became more regular and soon he was taking his little cousin and putting him on some nice bass. Even I hit that greenbelt creek and caught decent size fish.
Besides the small neighborhood greenbelt variety, there are larger creeks as well, Fort Worth having several within an hour or so from the city. One of my favorites is Keechi Creek, in Palo Pinto County, a little-known waterway that I'd driven over several times on my way to the upper Brazos River at Highway 16 (a section of river fed by the Keechi). The wide bottom creek was first shown to me by kayak fishing guide Shane Davies, who pointed out that many Texas bridges have public easements around them with which to legally access the waterway. The put-in under the bridge was easy, and like the greenbelt creek, the Keechi too gave up its bass willingly.
About a quarter mile below the bridge, the creek is crossed by a low water (weir) dam. A large pool sits land locked (during the dry season) about fifty yards below the dam, and we would tie off the yak's at the weir and hike to the fishing hole, which back then held sand bass. I remember during one trip with my son, we hiked to the pool, and after fishing for about an hour, a couple of young men and their girlfriends paddled up to the weir in two canoes and made their way to the fishing hole lugging a cooler full of beer.
The girls sat down on a large rock to watch the show, while the two young men jumped in and then walked into chest deep water to a large rock outcropping where they started noodling for catfish. It didn't take long to get a hold of one, and after a few minutes of man versus catfish, one of the men pulled out a 10-pound flathead bare-handed. The men hooped and hollered, and the girls yelled and high-fived each other. It was my first time seeing someone noodle a fish from its hole, and I have to admit, I was impressed. We thanked them for the show and snapped some photos of them and their catch. They politely shared some of their beer and even offered us the flathead, which we gratefully accepted…it was delicious.
I wish I could say all creeks were like that; sadly they're not. A fishing buddy once dragged me to a suburban creek known for its sand bass runs and crappie holes; he assured me the fishing was worth the crowds that came with the run. We arrived to find an overcrowded creek that ran through a city park. We put in and paddled under a street bridge that was lined end to end with crusty fisherman, and judging by their looks as we floated under them, they'd probably gotten up early to stake a claim on the bridge and didn't appreciate us boneheaded 'yakkers paddling under their stake.
Once past the gauntlet of angry bridge anglers, I noticed the trees along the bank were littered with every type of trash imaginable, from plastic bags to bottles to Styrofoam; now I know where all shopping bags go to die. A hundred yards above that, we came to an old man sitting on what can best be described as an island of trash. Literally. He dropped his fishing line into a hole he'd dug through the thick island of refuse, and as we paddled by, he was catching slabs from under the debris while sitting on an overturned 5-gallon bucket, which he probably found in the creek.
We continued on and fished further up the park, but to this day I don't remember what we caught, only the trash in that creek.
As bad as that sounds, though, for every littered creek we've seen, there are even more jewels out there, waiting to be discovered and give up its fish. My favorite these days is another Brazos feeder creek, this one only a few miles from our fish camp, which makes it a convenient paddle. The creek has good forage and a healthy population of buck bass, which surprised me given the fickle nature of the its flow.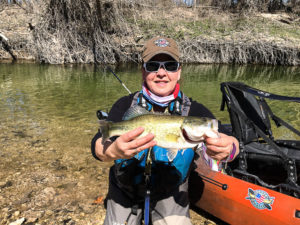 During the wetter parts of the year, numerous springs spill from the creek's limestone bedrock and that, coupled with a thick gravel bottom make for gin clear water. The fishing is tough, mind you, but it's a scenic paddle and my wife loves hanging out there with our dog, Nala, who loves the creek even more than we do.
Although the creek is only 20 minutes from a small city, it seems like every time we paddle it, we have it to ourselves, which is nice…and somewhat amazing given that each week thousands of motorists cross over that creek, driving the busy farm-to-marker road that spans the pretty strand of water, and I'm pretty sure many of them have driven past the creek and slowed down to look and thought to themselves, I need to fish that.
END
Postscript: Don't let the fact that you're paddling a local creek lull you into a false sense of safety. Never paddle creeks during, or shortly after, heavy rains. Don't paddle alone if possible and always file a float plan with family or friends even if just paddling your neighborhood creek. Most importantly, always wear your PFD.